Don Collier: Senior Software and Systems Engineer
PROFESSIONAL SUMMARY
Location: Tucson, AZ USA
30 years of experience in technical industry. Proficiency with various programming languages for factory and office automation using web, embedded, data security, network intelligence, databases, reporting, ecommerce, mobile and enterprise solutions.
A hands-on professional with a track record of innovative and practical solutions for difficult engineering problems, detail oriented, and leads by example. Ability to quickly design, prototype and build the production ready software and systems, while managing projects.
Excellent interpersonal and assessment skills with ability to put individuals at ease. He has advanced debugging skills for real challenges.


Don has own software developer tools and WiFi Laptop
Email: dcollier8 @netzero.net
Phone: 520.885.8629
SPECIALTIES:
Languages: C, C++, C#, Java, SQL, Shell Scripting, x86-assembly, JavaScript, Delphi, VB, VBA, Visual Studio .NET, HTML, XML, XSL, Delphi, XCode

Operating Systems: Linux, SUSE, All Windows versions, Solaris, AIX, HPUX, SCO, AS/400, VMS, DOS, Android (with USB-Serial), AWS Cloud, Custom Tactical

Hardware/Software Design for Electronics Systems: Analog, Digital, Microwave, Instrumentation, Robotics, Manufacturing, QA, Test, Integration, Computer Networks

Reporting: Crystal, BIDs, BIRT Maximo, SSIS DTS XTL, SQL, VBA, MS Access
Technical Writing
COLLIER SOLUTIONS is a Registered Vendor:
Pima County Government (ID# VS0000004811)
AZ State Government (ID# 000031346)
US Federal Government (Cage# 0HFH2)
Collier Solutions is an 8d Hispanic-Female owned Small Business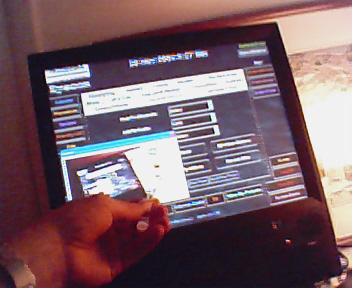 Don's Eyecom Touchscreen PC uses EP Software !
In 2004 Don and Mark Biegel created the above prototype touchscreen PC, which runs WinXP and custom Engine Paradise (see link at left) parallel middleware client software. It receives remote Wifi TV programs from a home multimedia server's TV card, and Internet TV too of course. Many other way cool features. The same software is now being considered for multi-use home grid control of household systems and controllers under DOE initiatives in process. Email Joan Parkinson for details, or to invest: JoanParkinsonDT@aol.com or myself at dcollier8@netzero.net .
Engine Paradise is EP parallel java2-based secure customizable Software has been delivered on 8 major products from worldwide PC Cop library software in 1998 to the Eyecom in 2005.
Don's LinkedIn.com PROFILE